Direct English and INTI International College Kuala Lumpur Ink Agreement to Formalise Strategic Partnership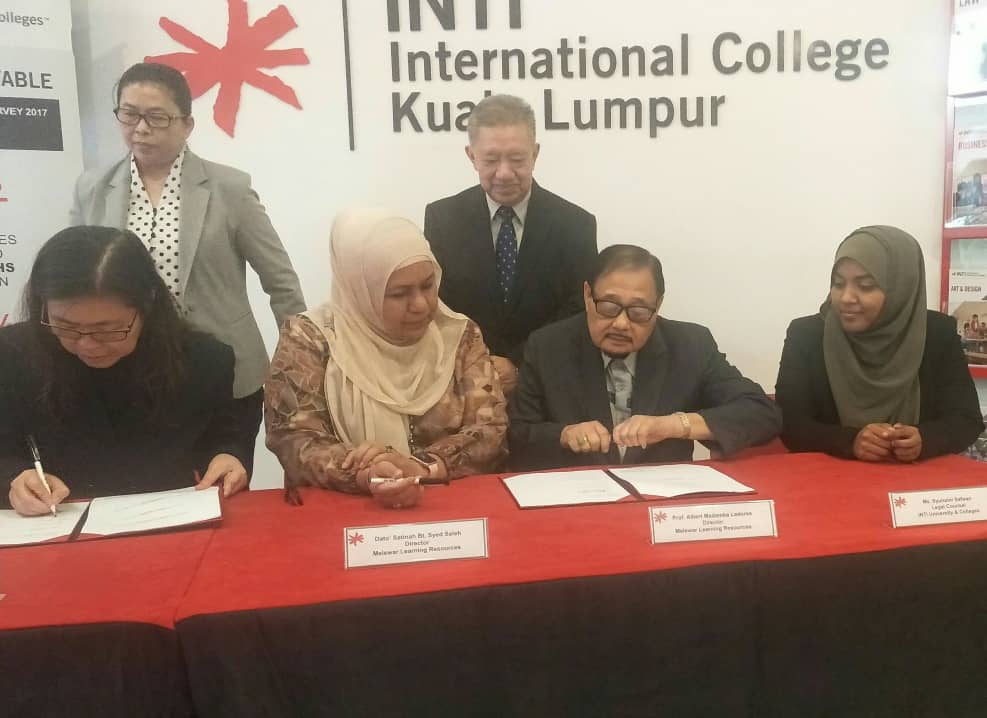 Direct English's Malaysian Master Licensee, Melewar Learning Resources Sdn Bhd, formalised its strategic partnership with INTI International College Kuala Lumpur (IICKL) by inking a Memorandum of Agreement (MoA) for IICKL to become a Direct English Institutional Accredited Centre (IAC). The MoA Signing Ceremony was held on 15 November 2018 at IICKL in Kuala Lumpur.
The strategic partnership forged with IICKL was seen as another important milestone for Direct English / Melewar Learning Resources as one of the leading English training providers in the country. The partnership also paved ways for Direct English courses to be more extensively recognised and used by English learners, especially students of institutions of higher learning and other English learners including members of the public and corporate sectors.
Signing on behalf of Melewar Learning Resources was its Director, Dato' Satinah Bt Syed Saleh while INTI was represented by its Chief Operating Officer, Ms Tan Lin Nah. Also present to witness the signing ceremony were Group Executive Chairman, Melewar Group, YM Tunku Dato' Seri (Dr) Iskandar B. Tunku Abdullah and the Chief Executive of IICKL, Puan Anis Laila Yap Abdullah.
"The Industrial Revolution 4.0 has given new impetus to the transformation that is happening in the world today where a myriad of technological innovations has made the world changed at a very fast pace. Everyone is much connected now and we definitely need communication skills for us to give meanings to all insights in this IR 4.0 era and to allow everyone to come and work together. This is what the partnership today is all about", said INTI's Chief Operating Offer, Ms Tan Lin Nah during the ceremony.
"The appointment of INTI International College Kuala Lumpur as an Institutional Accredited Centre of Direct English is certainly a significant one which we believe is strategic to our aspirations to create partnerships with universities, colleges and other learning institutions in Malaysia. It is our fervent hope that the partnership forged today will pave the way for future partnerships with INTI's other campuses in Malaysia", said Group Executive Chairman of Melewar Group, Tunku Dato' Seri (Dr) Iskandar Bin Tunku Abdullah.
Direct English, which is part of the globally renowned Linguaphone Group, UK, is reputed to be one of the most effective English language programmes today and the programme is based on a unique learning system developed by the internationally acclaimed education authority on English language, Louis Alexander.
In Malaysia and around the region, Melewar Learning Resources is at the forefront delivering English language training through Direct English. Thousands of learners: from university students to young professionals to corporate executives, from absolute beginners to advanced learners have since benefited from the trainings conducted by Melewar Learning Resources / Direct English.
[ngg src="galleries" ids="6″ display="basic_thumbnail"]