Direct English in action at Budimas Orion Home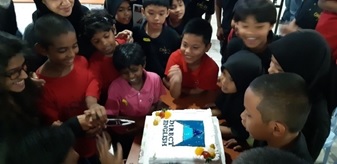 Direct English had successfully conducted a study skills workshop for more than 50 children of Budimas Orion Home on 12 May 2018. The workshop was part of the ongoing corporate social responsibility (CSR) initiatives of Direct English.
Two trainers/instructors of Direct English, R.Vickneswaran and Nathasha Dharwahne Balachandran, were on the ground to deliver the fun and interactive workshop. The children were taught on how to develop effective study habits and they were also exposed to the many different styles of learning. With proper input and guidance, the children managed to figure out which styles of learning work best for them.
The workshop ended with a 'Direct English' cake-cutting where the children had lots of fun wrapping up their weekend. Direct English looks forward to organising similar initiatives in the future not just with Budimas Orion Home but also with other charitable organisations.