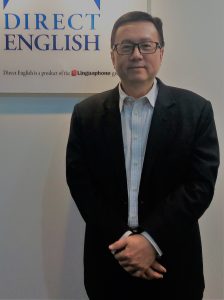 FROM THE DESK OF THE GENERAL MANAGER
We have just entered into the second half of 2019 and the past six months or so have been most eventful for Direct English Malaysia.
As usual, we are pleased to share with everyone here some of the key achievements that we have achieved from January to May this year:
After the first phase of assessment where 370 lecturers from all the five campuses of Institut Aminuddin Baki (IAB) completed our Direct English Online Placement Test in October last year, another group of 150 lecturers from its main campus in Bandar Enstek, Nilai, went through the second phase of their assessment known as English Language Skills Assessment or ELSA. ELSA, conducted by Direct English Malaysia in collaboration with the Staff Development Department of IAB, was held for three days from 7th – 9th January 2019;
THE 'BEST' PROJECT, which is a CSR project initiated by Direct English Malaysia in partnership with PINTAR Foundation and SMK Kiaramas, has entered into Phase 2 of its implementation. 'BEST', which is the acronym forBe an Excellent Student, comes with a Direct English course sponsorship by Melewar Learning Resources / Direct English Malaysia worth RM525K. The project was launched in August 2018 and expected to be fully completed in November 2020. 'BEST' has so far benefitted 50 students of SMK Kiaramas under Phase 1 (2018) and under Phase 2 (2019), it would see the participation of another 100 students of the school;
We are set to expand our business operations in the region when our very own language centre known as Direct English International Language Centre or DEILC was opened in Kuala Lumpur on 19thMarch 2019. The opening of DEILC was officiated by the Deputy British High Commissioner to Malaysia, Mr David Thomas, who was at the centre together with a host of guests and representatives from the various institutions and organisations, including the Ministry of Education Malaysia and the British High Commission Kuala Lumpur.
We took great pride in celebrating the 93rdbirthday of Her Majesty Queen Elizabeth II when we were involved as one of the proud sponsors of the Queen's Birthday Party or QBPKL 2019 hosted by the British High Commission in Kuala Lumpur.

Direct English Malaysia's involvement in QBPKL 2019 also epitomises our close association with UK Education as Direct English Malaysia is a proud supporter of "Education is GREAT'' under the GREAT Britain Campaign by the UK government.

We have added another feather in our cap when we were entrusted with the task to deliver an English language assessment project for a total of 240 key members of the Sabah educational fraternity, comprising 38 top/senior management staff of Jabatan Pendidikan Negeri Sabah (Sabah State Education Department) and 202 secondary school principals/senior assistants of the state. The assessment project known as English Language Skills Assessment (ELSA) was conducted over four days in three locations i.e. Kota Kinabalu (21st – 22nd  May), Tawau (23rd  May) and Sandakan (24th  May).
We are indeed excited that besides the above achievements (or we could also identify some of them as our milestones), we have also been very busy conducting English language training for the various corporations/organisations. We are also working very closely with our Institutional Accredited Centres to deliver our products and services at their respective institutions.
We certainly look forward to having more exciting time in the coming months as we commit unwaveringly to bring "English Direct to the World".
Date: 10 June 2019