TADC winners spend school holidays at Direct English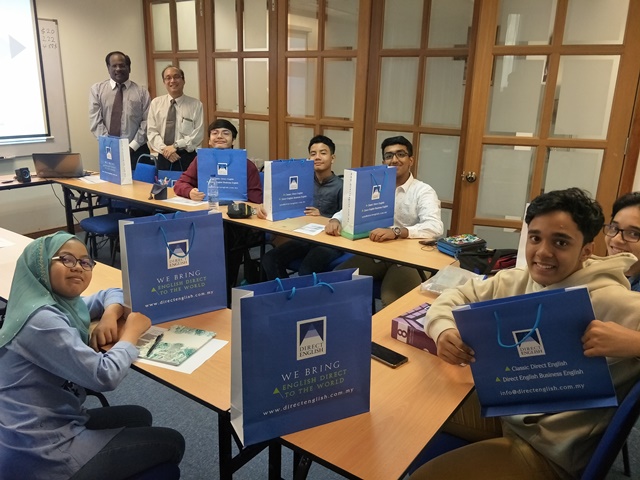 A group of students from Greenview Islamic International School (GIIS) were privileged to be at Direct English Malaysia during the school holidays, polishing their English proficiency to the optimum. The students, coming from GIIS two campuses in Bangi and Shah Alam, were selected by their school to be at the Direct English Centre in Kuala Lumpur for their Direct English course.
The students' enrolment in the Direct English course was part of the winning prize for GIIS who emerged as the Champion School for the Under-15 Category in the recent Tunku Abdullah Debate Challenge (TADC). For the record, the Champion School for the Under-18 Category was St John's International School.
Student, Ibrahim Ibn Mahbub, who was one of the GIIS debaters, expressed his delight to be part of his school team in TADC. He remarked that TADC offered the participating teams a highly tensed and challenging environment especially during the Grand Finals, and his team's efforts finally paid off when they emerged as Champion for the Under-15 Category.
He said, "What makes our success in TADC sweeter and more meaningful is the RM15,000 worth of Direct English course sponsorship that we won for our school". "I am now very much looking forward to participate in the next edition of TADC", he added.
TADC, jointly organised by St John's International School and Direct English Malaysia in September this year, saw very encouraging participation from the various public, private and international schools in the country. Luminaries like Y.A.M. Tunku Zain Al 'Abidin ibni Tuanku Muhriz, Y.M. Tunku Halim B. Tunku Abdullah, Dato' Steve Day, Prof Dr Ganakumaran Subramaniam, Mr Tony Collingridge and Assoc Prof Dr Cordelia Mason adjudicated in the Grand Finals
TADC was organised to honour the memory of the late Tunku Tan Sri Abdullah, son of Malaysia's first Yang di-Pertuan Agong. The late Tunku Abdullah was a success in the world of commerce, development and politics, as well as noted for his speeches. Many appreciate the late Tunku Abdullah for his large and generous charity endowments and philanthropy.
[ngg src="galleries" ids="7″ display="basic_thumbnail"]