THE 'BEST' PROJECT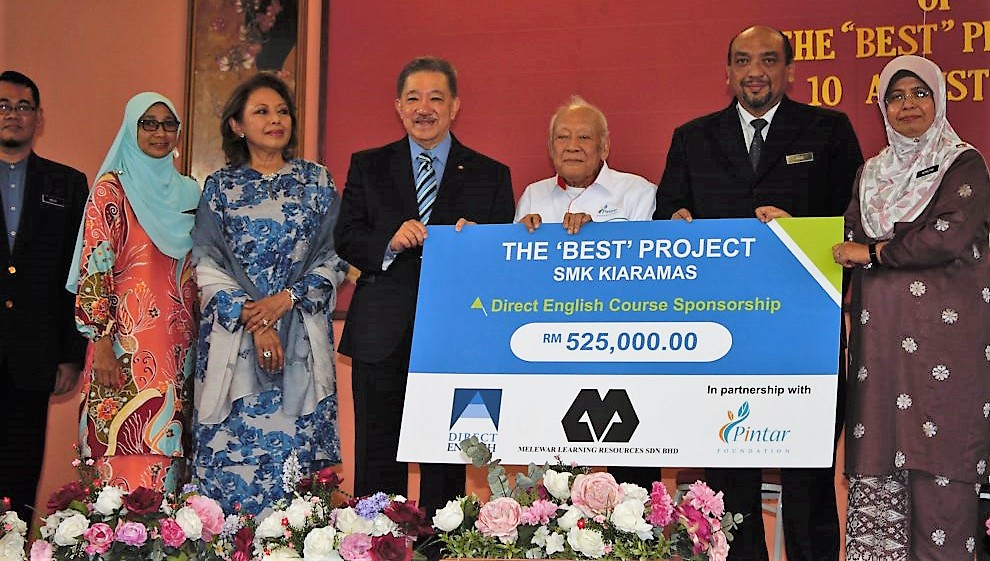 THE 'BEST' PROJECT, which is a CSR project initiated by Direct English in partnership with PINTAR Foundation, was launched on 10 August 2018 at SMK Kiaramas, Persiaran Dutamas, Kuala Lumpur
The launch marked the commencement of a meaningful public-private CSR partnership that would contribute towards the realisation of the many goals of the Ministry of Education and the Government of Malaysia to uplift the level of English proficiency among the students.
THE 'BEST' PROJECT is in line with one of the 11 shifts (i.e. Shift 2) in the Malaysia Education Blueprint (2013 – 2025) that calls for expansion of opportunities for greater exposure for students to be proficient in the English language. The project comes with a total sponsorship value of RM525,000.00 from Direct English (Melewar Learning Resources) and it sets to benefit 100 students of SMK Kiaramas.
The momentous launch ceremony was officiated by Tuan Aidee B. Jantan, Director of Fully Residential and Excellent Schools Management Division, Ministry of Education (representing the Deputy Director General of Education) and witnessed by Tan Sri Dato' Seri Utama Arshad Ayub, Chairman of PINTAR Foundation, YM Tunku Dato' Seri (Dr) Iskandar B. Tunku Abdullah, Group Executive Chairman of Melewar Group, Datin Seri Maneesah Ahmad, Director of Melewar Learning Resources, Dato' Satinah Syed Saleh, Education Advisor of Khazanah Nasional Berhad and Pn Norizan Daud, the Principal of SMK Kiaramas.
The guests, including the invited guests from the Ministry of Education, British High Commission and representatives from the corporate sector, were treated to a choral speaking performance by students of SMK Kiaramas and also THE 'BEST' PROJECT video presentation before the guest of honour presented the 'Direct English Learning Pack' to a student representative to mark the momentous launch. YM Tunku Dato' (Dr) Seri Iskandar then presented the sponsorship pledge of RM525,000.00 to Pn Norizan Daud to signify Melewar Group's firm commitment to ensure the successful implementation of the project at the school.
The programme ended with an exhibition where Direct English had set up a booth for students to take the online placement test and also to familiarise themselves with the Direct English Learning Systems that came with the learning packs.
[ngg_images source="galleries" container_ids="1″ display_type="photocrati-nextgen_basic_thumbnails" override_thumbnail_settings="0″ thumbnail_width="120″ thumbnail_height="80″ thumbnail_crop="1″ images_per_page="10″ number_of_columns="4″ ajax_pagination="0″ show_all_in_lightbox="0″ use_imagebrowser_effect="0″ show_slideshow_link="0″ slideshow_link_text="[Show slideshow]" template="default" order_by="imagedate" order_direction="ASC" returns="included" maximum_entity_count="500″]