THE 'BEST' PROJECT – PHASE 2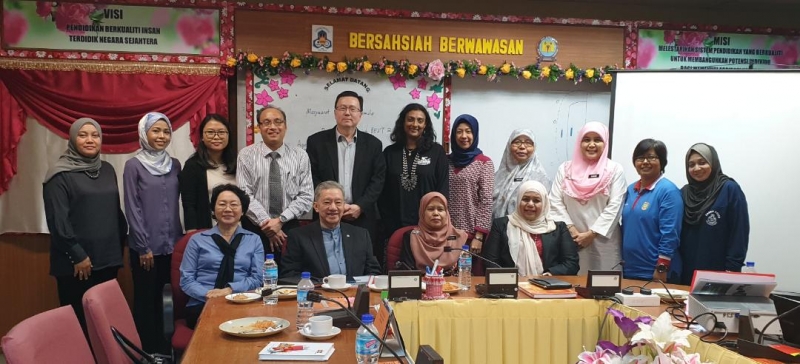 THE 'BEST' PROJECT, which is a CSR project initiated by Direct English in partnership with PINTAR Foundation and SMK Kiaramas, would soon move to Phase 2 of its implementation in 2019.
'BEST', which is the acronym for Be An Excellent Student, comes with a Direct English course sponsorship by Melewar Learning Resources worth RM525K. The project was launched in August 2018 and expected to be fully completed in November 2020.
'BEST' has so far benefitted 50 students of SMK Kiaramas under Phase 1 (2018) and under Phase 2 (2019), it would see the participation of 100 students of the school, completing their Direct English course based on their proficiency level.
The stakeholders of this CSR initiative met at SMK Kiaramas recently to review the performance of the project for Phase 1 and at the same time, to discuss plans and strategies to enhance the project delivery for Phase 2.
The meeting/discussion was chaired by the new principal of SMK Kiaramas, Pn Dahanum Bt Soyono and attended by Group Executive Chairman of Melewar Group, Tunku Dato' Seri (Dr) Iskandar B. Tunku Abdullah, Director of Melewar Learning Resources, Dato' Satinah Bt. Syed Saleh and CEO of PINTAR Foundation, Pn Karimah Tan.
During the meeting, the Direct English team presented the various new initiatives that would be implemented in Phase 2. Among others, the project delivery at SMK Kiaramas would now include the incorporation of the 21st Century Learning Skills in 'BEST' classrooms and the introduction of other new features such as 'BEST' Conversation Class by native English speakers, 'BEST' Speakers' Corner, 'BEST' study tours, etc. to enhance students' overall 'BEST' experience.
[ngg src="galleries" ids="12″ display="basic_thumbnail"]